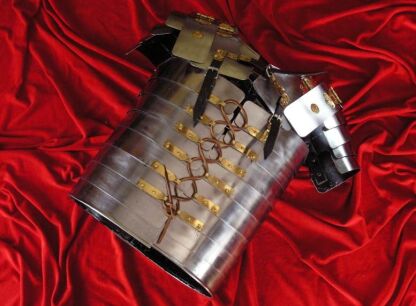 In our offer you can find a lot of ancient and medieval reproductions of warriors' equipment, for example, impressive genuine reproductions of historical armours. Moreover, we have, among others, bracers (arm-guard), steel hoods, Roman greaves, Gothic knights' gloves, and suits of armour from all over the world. All of our products are made with due diligence for the smallest details because client's appreciation is the most important thing for us. According to this fact, when you buy our replica as a gift for yourself or for someone else you can be 100% sure that it will meet your expectations. We would also like to invite you to check other categories where you can find a lot of interesting replicas of weapons.
Armor protects soldiers from injuries during a battle, so it has always been of the highest significance for the army, no matter of what historical period or nationality. In ancient Rome, cuirasses, greaves, helmets and leather vambraces were most commonly used. Chainmail was also added to be protect warriors more effectively from piercing and thrusting damages. It was used commonly also in medieval times, when knights wore armor which often covered all their bodies in metal.
Apart from the ancient and medieval armor replica, in our shop you can also find other interesting items. We have prepared amazing replicas of hats, which belonged to musketeers, cavaliers and pirates. What is more, teutonic knight's, templar's or crusader's cape can also be obtained in our shop. If you want to turn into a mysterious monk, you can get a black, brown or red robe. You can be sure to get the products of the highest quality only.