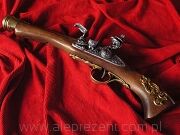 We encourage you to order our marvellous blunderbuss replica. It is characterized usually by a huge, but short caliber barrel and it is usually flared at the muzzle. This firearm is sometimes said to be the prototype of a shotgun. It was commonly used in the military and for defensive purposes, as it was highly efficient a short range.
Steel and brass were usually the main materials to create a blunderbuss. This weapon was adjusted for cavalry, as it was easy to be reloaded quickly and conveniently. What is more, it was used for defending a mail coach and guarding prisoners. It was popular among marines and pirates as well, as it facilitates shooting from the unstable surface of a ship.
In our shop, you can find any blunderbuss replica from all around Europe. For instance, there are models characteristic for Italy, Germany, Austria, England, Spain and France. Moreover, we stock also exact copies of those firearms which were used by real pirates. As we care about every customer, we have prepared replicas for both right and left-handed people.