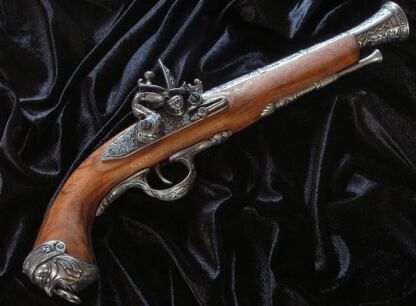 We are glad to present you an amazing replica flintlock pistol. In general, it is a short gun which was widespread at the turn of 17th and 18th centuries. This pistol was widely used by the cavalry but in the infantry it was mainly as a piece of officers' equipment. This flintlock pistol had an effective range of 50 metres. On contrary, Saxon cavalry could fire from the distance of 20 metres. Our replicas are made from alloys that allow you to adjust them for just about any kind of ammunition. Moreover, you do not need government permission to buy our replicas because they are not classified as firearms. They are exclusively decorative items.
In the early 17th century, the flintlock mechanism was invented and with time, pistols which were based on this technique started to be in use by the army, as well as for self-defence. Their range was not too wide, so soldiers had them in their equipment together with cutlasses or swords. Most flintlock pistols were smoothbore, but some in some models rifling was applied. Its mechanism was based on the inflammation of gunpowder made by sparks caused by hitting a piece of flint with a special rock.
Their variety of styles and sizes was huge. The models of the biggest size were most commonly kept in a holster attached to a horseback, that is why they were called "horse pistols". Medium pistols were carried in big pockets or stuck to a belt. Such weapons were often used for duelling, so producers usually sold them in pairs. If you want to get a reliable flintlock pistol replica, which will be made of the best quality materials only, you should take up on our offer.
Check out flintlock pistol replica for sale in our shop!