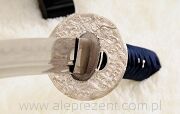 In our well-stocked online shop, you can order, for instance, a marvellous samurai sword. We have prepared a wide range of various replicas of traditional Japanese weapons, so that you could find exactly the one you are looking for. Firstly, there is wakizashi, which have been used since the fifteenth century for close combats and also, sometimes, for ritual suicides. Next, we stock also shirasaya, which has purely decorative functions, because it was deprived of a properly wrapped hilt.
The most recognisable Japanese blade is the samurai katana sword. It was highly respected among the samurai, as it was not only a weapon, bur also a carrier of their souls. In the present times, it is still treated with a kind of mysticism. We have also prepared various kinds of Japanese daggers called tinto, used for stabbing and slashing an opponent. We can assure you that all the replicas, available in our samurai sword shop, are elaborated in every single detail and look absolutely amazing. Do not hesitate and order an excellent samurai katana or any other Japanese blade now!    

Check out katana Samurai sword for sale in our shop!