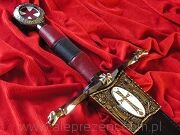 Every replica of a sword, presented below, has been thoroughly prepared in accordance with the historical specifications. As a result, you can order a perfect copy of a weapon which has been used in the past. For example, it can be a Roman sword, such as gladius, commonly used by every legionary in the ancient era. It was very effective to cut or thrust an enemy in a near distance.
Furthermore, you can order a replica of a Viking sword, which was usually highly ornamented. Having it in your hand, you can feel like Ragnar Lothbrok, a legendary warrior, famous thanks to the popular TV series. From the Viking models, outstanding Templar swords originate from. Their decorations were even more vivid, thus all those products in our offer are really impressive.
You are more than invited to browse the assortment of our sword shop. We are sure than you will be amazed by our excellent products, as they are widely appreciated by both advanced collectors and historical reenactors. They make it possible to discover the initial beauty of blades, as their original prototypes were harmed by rust and other unfavourable conditions. A sword replica will make an excellent decoration of your home or office and pay the tribute to the blacksmiths of the past.

Check out replica sword for sale in our shop!