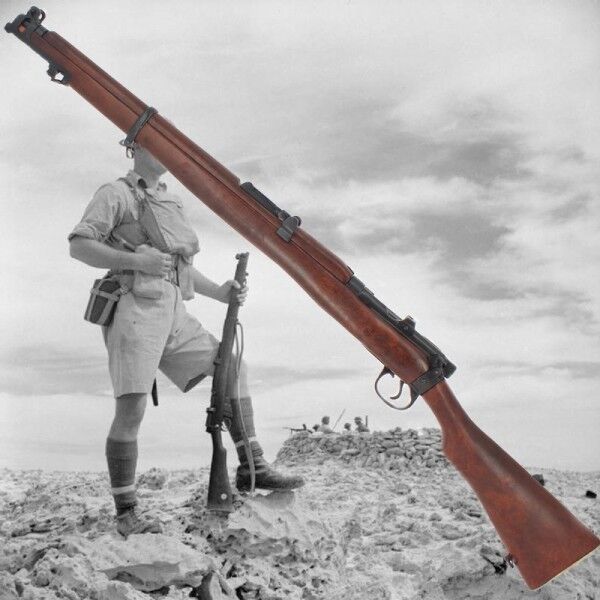 We are offering you a marvellous Lee-Enfield Mk III replica, particularly the SMLE model. This repeating firearm was magazine-fed and bolt-action. The military troops of the British Empire and Commonwealth used this variant since 1907. It was in service in both the First and the Second World Wars. In the United Kingdom, it was officially replaced with another rifle called L1A1 in 1957, however, it was still popular in Britain until the early 1960s. The number of built Lee Enfields is over 17 million. The acronym SMLE stands for "Short Magazine Lee–Enfield" and it refers to the variant that was used during the First World War. Lee-Enfield was general a redesign of the Lee-Metford rifle, used in the British army since 1888. Its name derives from the designer of its bolt system, James Paris Lee, and the place where it was created - the Royal Small Arms Factory in Enfield.
Lee-Enfield Mk III - technical information
Lee-Enfield Mk III had a ten-round box magazine that used the .303 British cartridges. This firearm was relatively slow, as it was necessary to reload the bullet after every single shot. Nevertheless, it was extremely powerful. Its ammo was of the small calibre (7.7 mm) and it was really long (56 mm). What is more, this rifle is characterized by high muzzle velocity reaching 744 m/s and it has efficient fire range within 503 metres. It was especially effective at a middle distances and it was used also as an execution weapon. In our online shop, you can easily order a superb Lee-Enfield Mk III replica, made of wood and zamak. It is amazingly crafted and copies every single detail of the original very precisely.