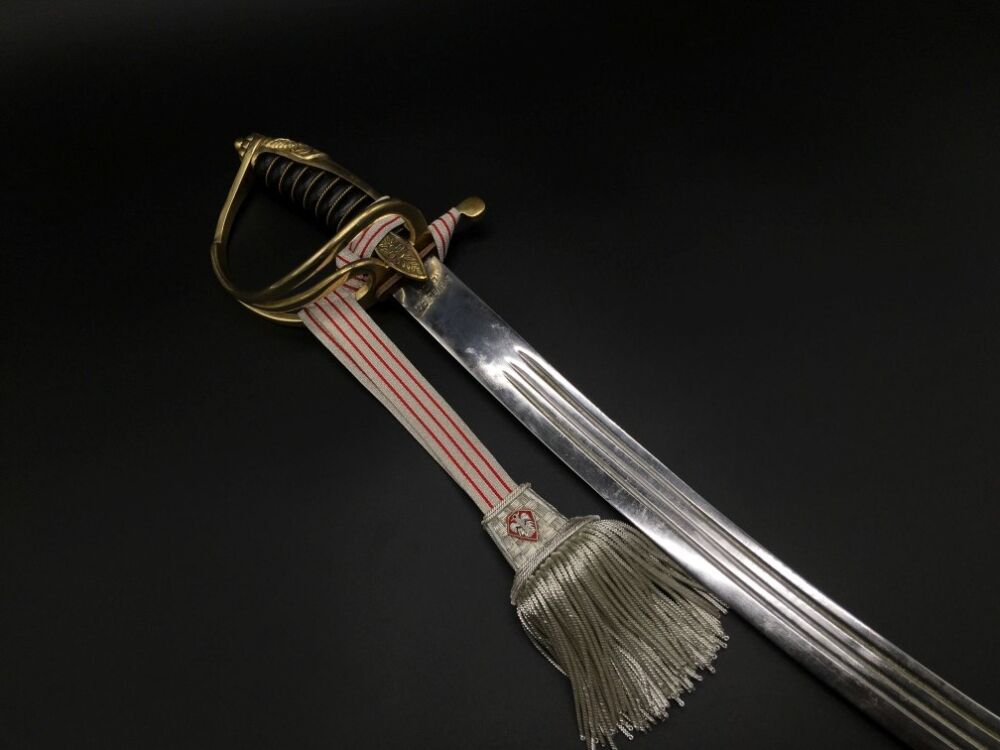 Szabla husarska to jedna z najbardziej reprezentatywnych broni. Lata swojej świetności przeżywała w wieku XVII - XVIII. Pięknie zdobione rękojeści Szabel Husarskich stanowi zachwycającą ozdobę. W ofercie znajdą Państwo modele z wygrawerowanym napisem: "Bóg, Honor, Ojczyzna", dzięki czemu replika szabli jeszcze bardziej zachwyca i przyciąga uwagę.
Husaria była rodzajem polskich oddziałów konnych, biorąca udział w walkach między początkiem XVI wieku a pierwszą połową XVIII wieku. Słynęła głównie ze skutecznego przełamywania sił wroga przy pomocy widowiskowych szarż. Dzięki swojemu nietypowemu uzbrojeniu (w tym charakterystycznym skrzydłom) oraz taktyce, husaria uznawana jest za jedną z najbardziej skutecznych i rozpoznawalnych formacji wojskowych w dziejach walk konnych. Powstała ona dzięki Serbom, którzy chcieli zemścić się na Turkach po przegranej na Kosowym Polu i w tym celu przybyli do Polski, aby kontynuować walkę z tym wrogiem. To z ich sposobów walki zaczerpnięto taktykę polskiej husarii.
Szabla husarska charakteryzowała się zamkniętą rękojeścią i tzw. paluchem pasowanym lub obrączkowym, czyli pierścieniem służącym do oparcia kciuka. Pozwalał on wzmocnić uchwyt, a tym samym ułatwić wykonywanie bezpośrednich cięć. W przypadku trafienia stanowił swego rodzaju dźwignię – pozwalał szybko odbić broń, a podczas mijania celu umożliwiał błyskawiczne wycofanie szabli, tak aby zadać nią następny atak.